Focus on the world
SiM held "SiM XR LiVE", a live streaming show using virtual production, which is extremely groundbreaking for a rock band.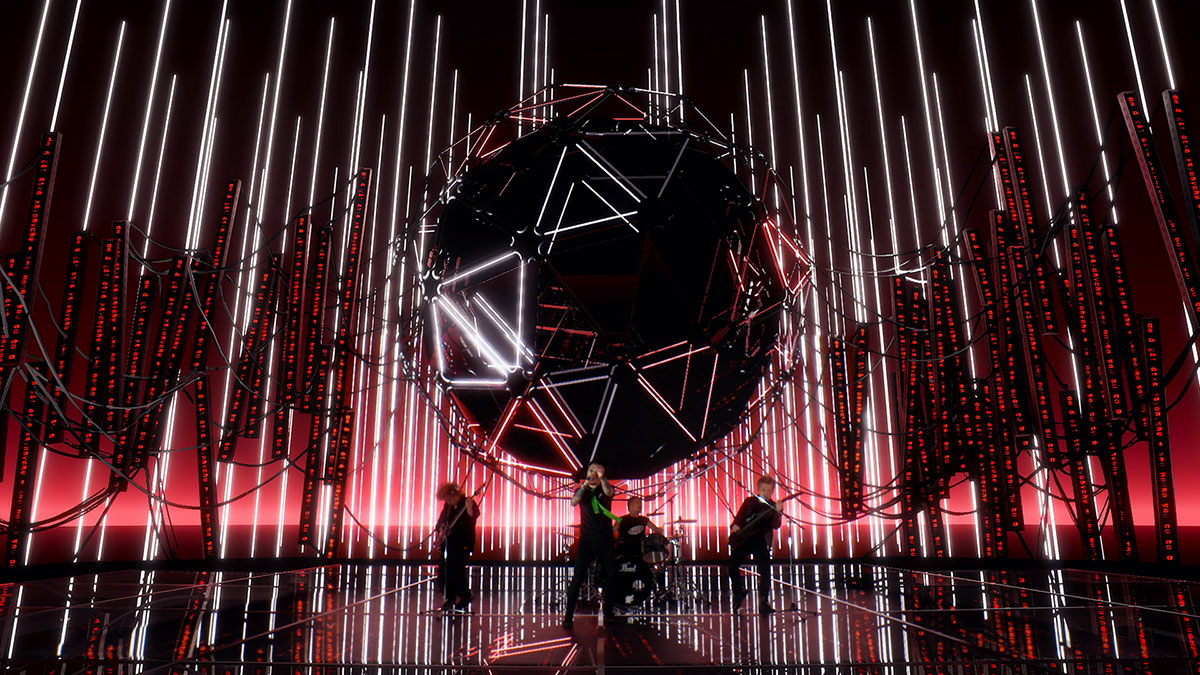 SiM is a rock band whose song "The Rumbling", the opening theme for the TV anime "Attack on Titan The Final Season Part 2", has been receiving a great response both in Japan and abroad.
"The Rumbling" has impressed the audience with the power of its song by staying on top of the Billboard Hot Hard Rock Songs chart for a long period of time, reaching number one many times. In Japan, SiM has been at the forefront as a rock band, touring live houses nationwide, filling arena venues, headlining major music festivals, and organizing their own outdoor festival "DEAD POP FESTiVAL". On the other hand, it can be said that they were unknown abroad.
Although written as the opening theme for an anime, the fact that SiM drove a wedge into the world music scene with "The Rumbling", with its dynamic and dramatic band sound, is very significant. SiM's first solo show in the U.S., "RUMBLE IN Los Angeles", held in August this year, was so successful that tickets sold out immediately and the venue was suddenly changed and additional tickets were sold. They also appeared at Crunchyroll Expo 2022, the largest anime event in North America and they gave a hot performance.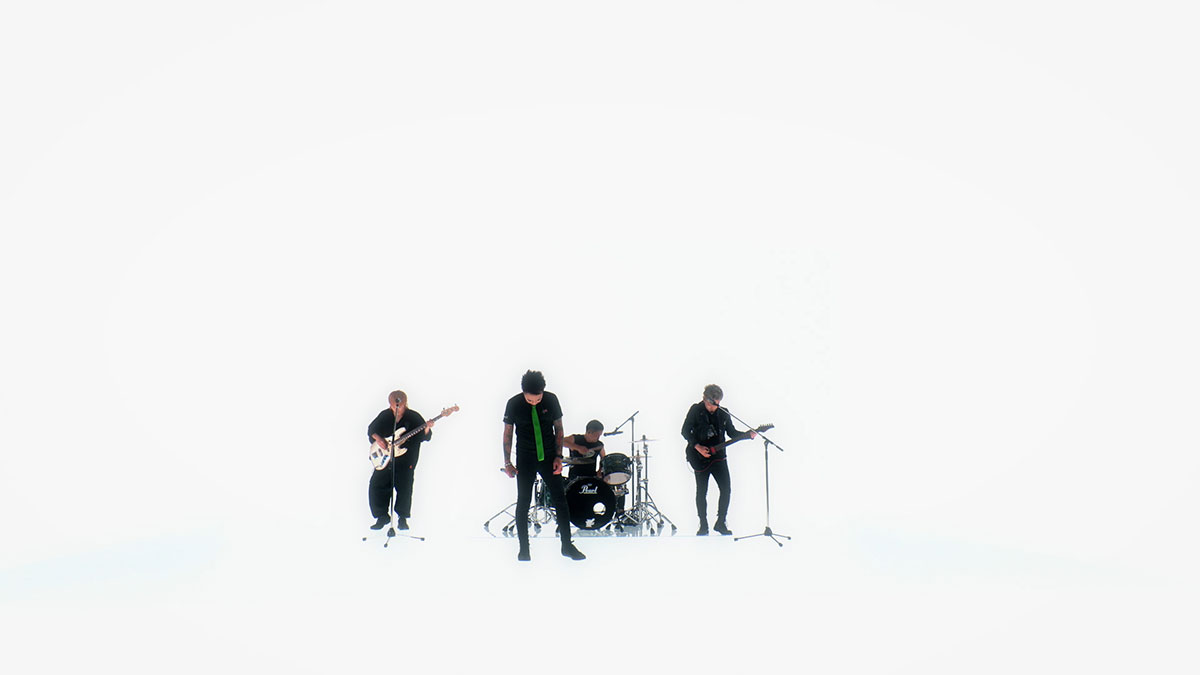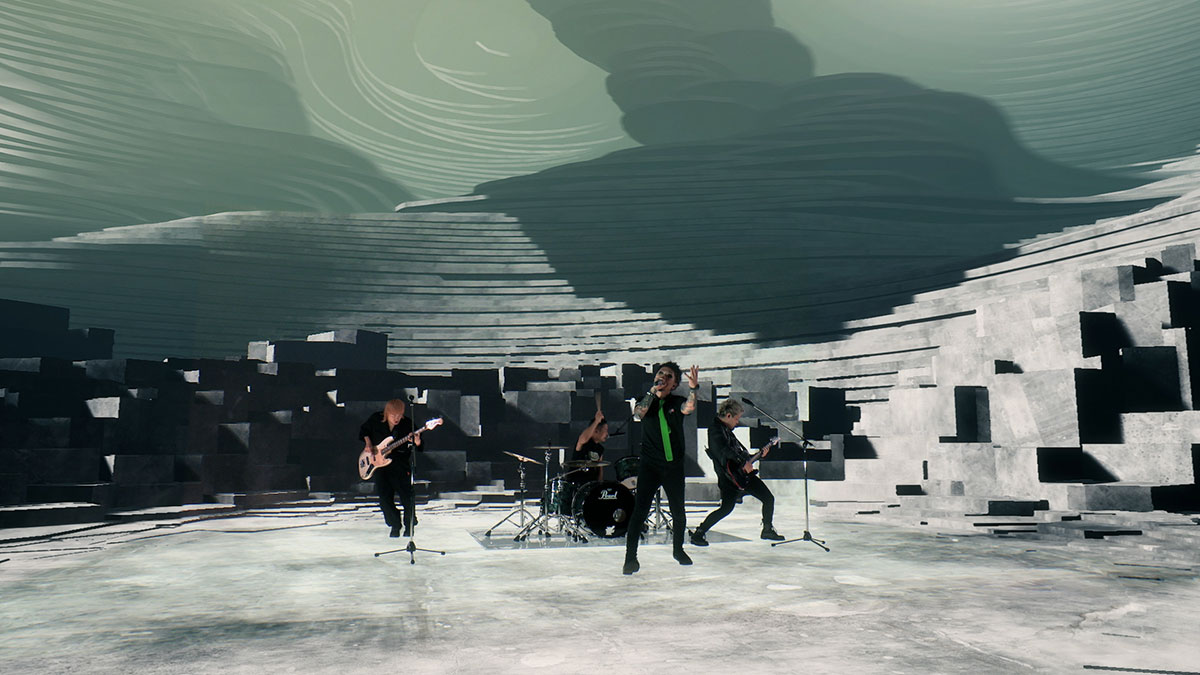 They released a long-awaited EP "BEWARE" containing "The Rumbling" in September.
In the midst of growing attention they released the online live "SiM XR LiVE" using virtual production system on September 30th through domestic and international platforms. This is an extremely groundbreaking initiative for artists in Japan to introduce this system on a full-scale basis.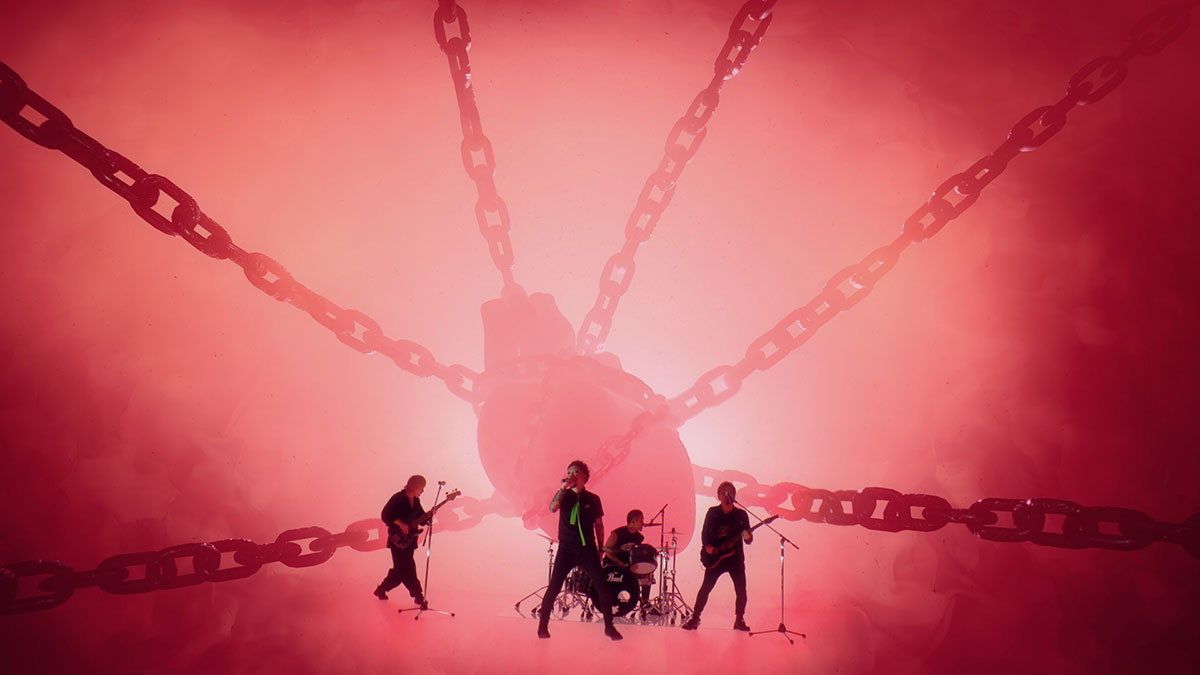 The music video for "The Rumbling" was one of the triggers for this "SiM XR LiVE".
The most advanced video creators in Japan, CRYPTON FUTURE MEDIA, INC which is the creator of "HATSUNE MIKU" and flapper3 Inc created great videos. It was the video combining the rumbling which moved the story of "Attack on Titan The Final Season Part 2" and SiM's aggressive performance.
This team reunited to create the new live entertainment, "SiM XR LiVE". The newly constructed HANEDA xR STUDIO was chosen as the stage for this project. It is likely to serve as a new base for live productions by domestic and international artists in the future.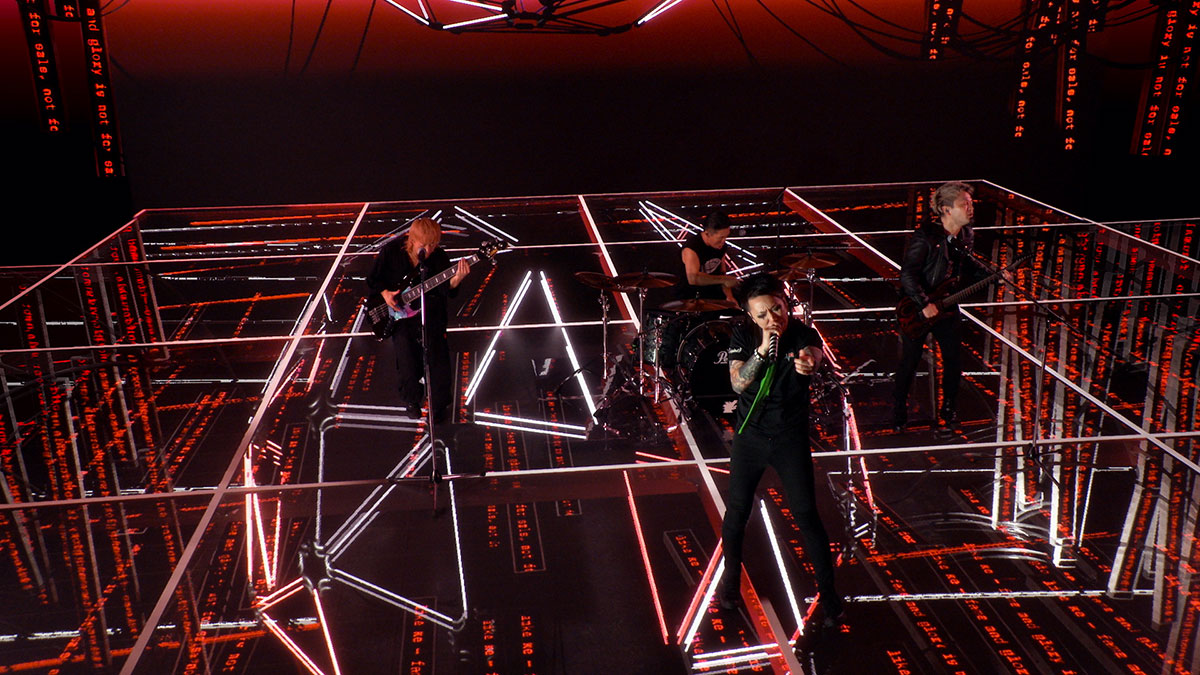 What does live performance with XR and virtual production systems look like?
The productions that movies are projected on LED visions are familiar with many live performances and online lives. The innovative point of this system is building a virtual place in real time.
I was present at the rehearsal. In front of my eyes, SiM played their music on the stage which had LED vision floor and back. On the other hand, in the monitor, SiM played in the virtual place that didn't exist in real. I was almost confused.
At the same time, I enjoyed the illusive experience like diving into another world for each song.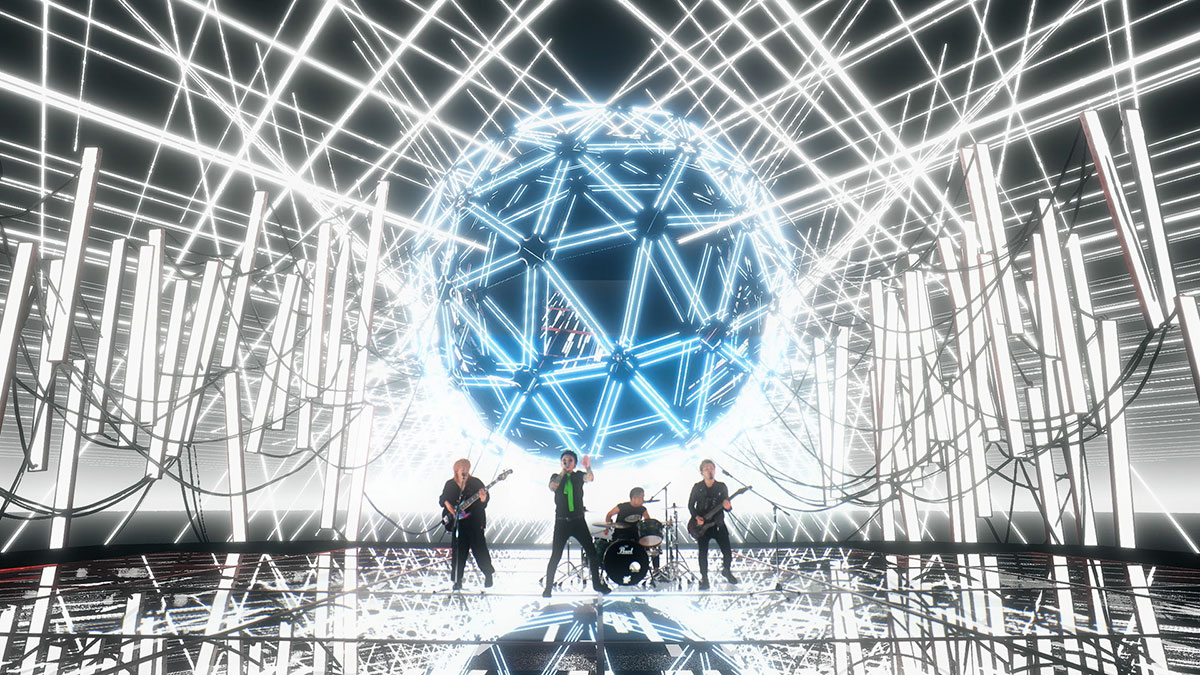 Since it was the first time and even more "live", rehearsals were conducted so carefully.
They finely adjusted the standing positions of members, the camera work, LED brightness and so on.
MAH(Vo), SHOW-HATE(Gt), SIN(Ba)and GODRi(Ds)were captured by 7 cameras, and they proceeded with rehearsals checking their own actions and how they look when merged with the virtual for every song.
It seemed like that they felt hotter than it looked on the LED stage. They were very sweaty in the stages. However, they had curious and serious looks on their faces.
Including many staff who created the live show together, the studio was in a vibrant atmosphere.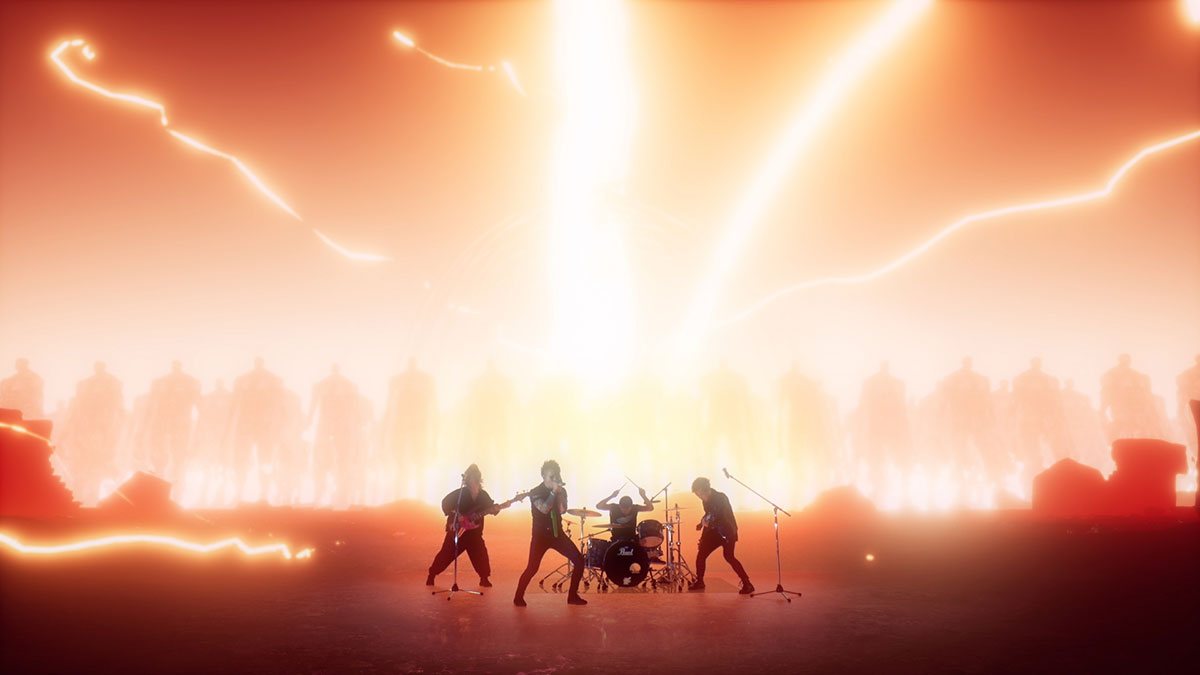 This SiM XR LiVE consisted of a total of four songs. "The Rumbling", "Light it up" from the latest EP "BEWARE", and "KiLLiNG ME" and "Devil in Your Heart", the band's signature songs and live staples, were performed. What kind of worldview each of these songs has, I hope you will enjoy seeing them live in person. "The Rumbling" collaborated with "Attack on Titan" as "The Rumbling featuring Attack on Titan" and presented a magnificent and emotional stage performance. The high voltage and dynamism of the live performance, and the fusion of the performance with the production that was impossible in the past online and real live performances, are unique to "SiM XR LiVE".
They have introduced the sale of single song tickets that can be purchased and viewed by the song during the archive period. Their idea was to allow as many people as possible to see the live performance, and to make it a gateway to other live performances and the band SiM.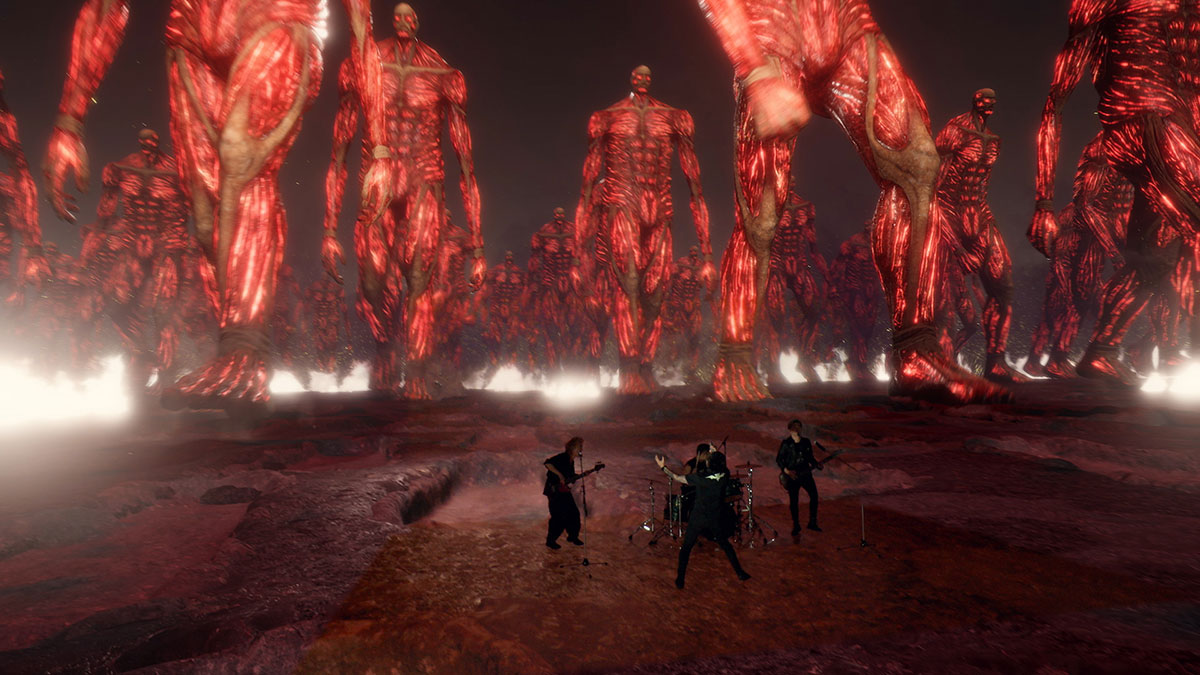 Since they launched their music careers over ten years ago, SiM have valued their live performances which are full of sweat and energy of the audience in live houses.
They have shaken live houses all over the country with loud sounds based on rebellious and aggressive music such as hardcore punk, metal and reggae. Moreover, their unique catchy sounds with pop poisonousness have attract the number of listeners who were not fans of loud/extreme music.
They organized their own festival and made efforts to create a place for many music fans to enjoy.
They are one of many artists who had an unpleasant experience that they couldn't perform as they wanted to do, because of prohibition of holding events and limitation on the number of audience in the Corona Disaster.
Under such circumstances, they thought they wanted to create stimulating and unique entertainment that made them excited. The biggest one of entertainment is "SiM XR LiVE".
In the interview, MAH(Vo)said "Our XR LiVE is just one of so many ways of expression. Probably, there is much more we can do in XR live. Please don't think you watch all the possibilities of XR live after watching our live. If other artists do some XR lives, I want you to watch them. I predict that great entertainment will be created one after another."
As he said, online live that was born in the Corona Disaster will be developed by various technologies and ideas.
PIA Corporation that created this time special live with SiM is planning to transmit Japanese artists, animations, creators and new technologies to the world through entertainment.
*Article: Saori Yoshiba